"I ragazzi italiani che a Londra impastano la pizza con acqua di mare"
Alessandro Allocca
6 Jun 2023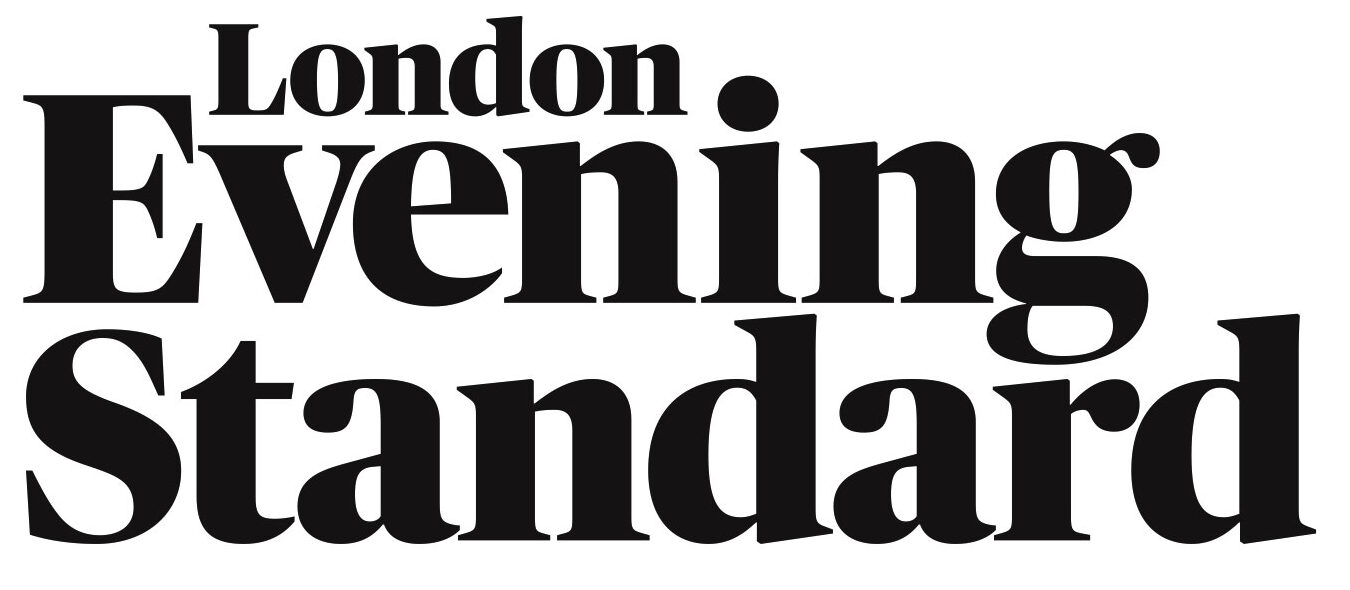 "I think I've just found the best pizza in London"
Joanna Taylor
6 May 2023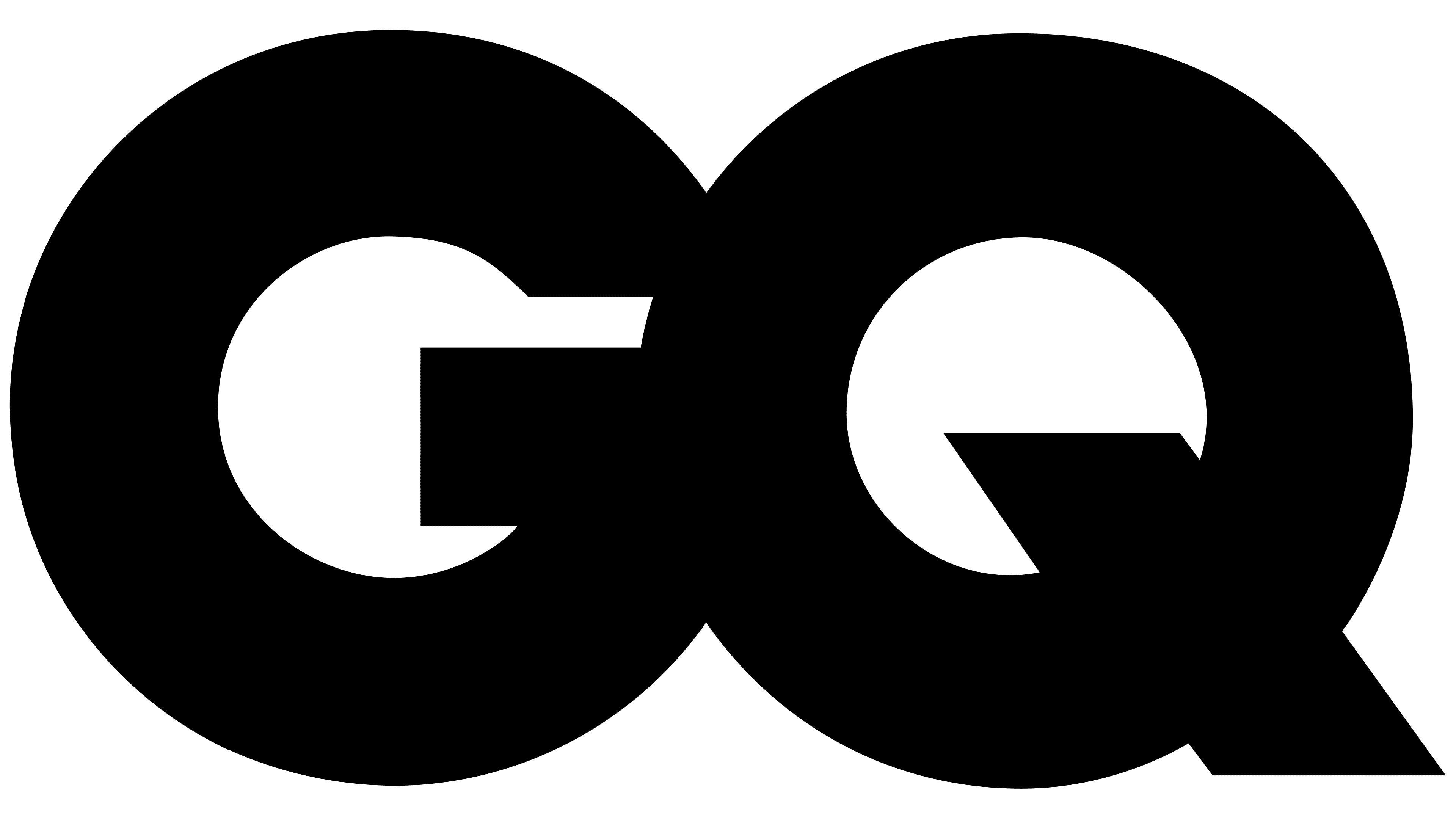 "'O Ver brings authentic Neapolitan charm to London"
Eleanor Halls
7 Oct 2016

"O Ver London, The star turn? The pizzas!"
Marina O'Loughlin
7 Oct 2016

"Fantastico!"
Antonella Bordone
1 Oct 2016

"'O Ver it's an ode to the rustic simplicity that Italians do best"
Caroline Lewis
30 Aug 2016
Family Traveller
24 Aug 2023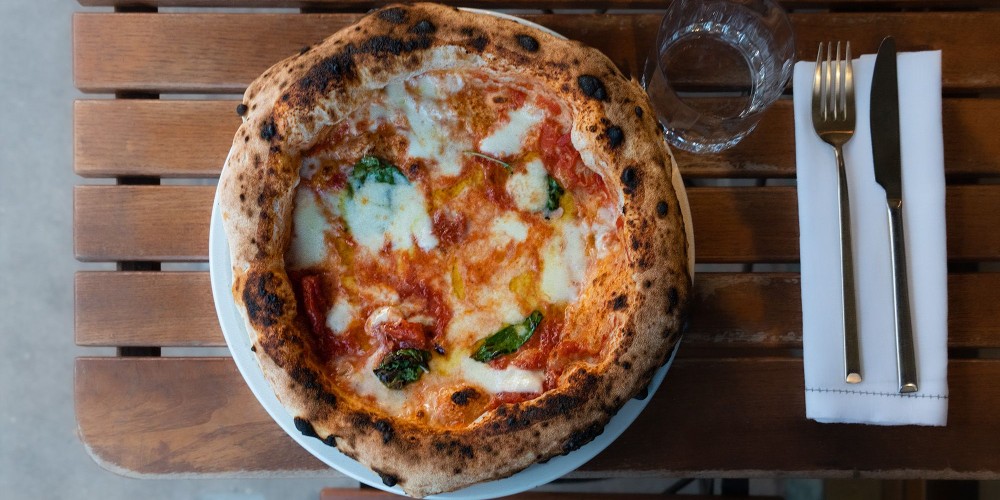 'O Ver Borough: possibly the best pizza this side of Naples
'O ver Borough is situated on Southwark Street and although small, it's one of the most beautifully formed London restaurants.
The attentive, child-friendly Italian waiters welcome kids of all ages and the food is very impressive. On offer is delicious Neapolitan street food that's made fresh each day. And you won't find stodgy pizza bases here, as the dough at 'O ver is made using pure sea water: apparently it improves the taste and is better for digestion.
We shared Bruschetta to start with, and oh my, the tomatoes were some of the best I've ever had: I could have been in Naples. The pizza choices include Margherita, Capricciosa (artichokes, ham and olives) and Salsiccia (pork sausage, broccoli, white wine and chilli). They were flavoursome and filling but leave room for pudding is our advice. We tried the Tiramisu and Il Gelato – which comes from Borough market.
---
The Mail+
8 Aug 2023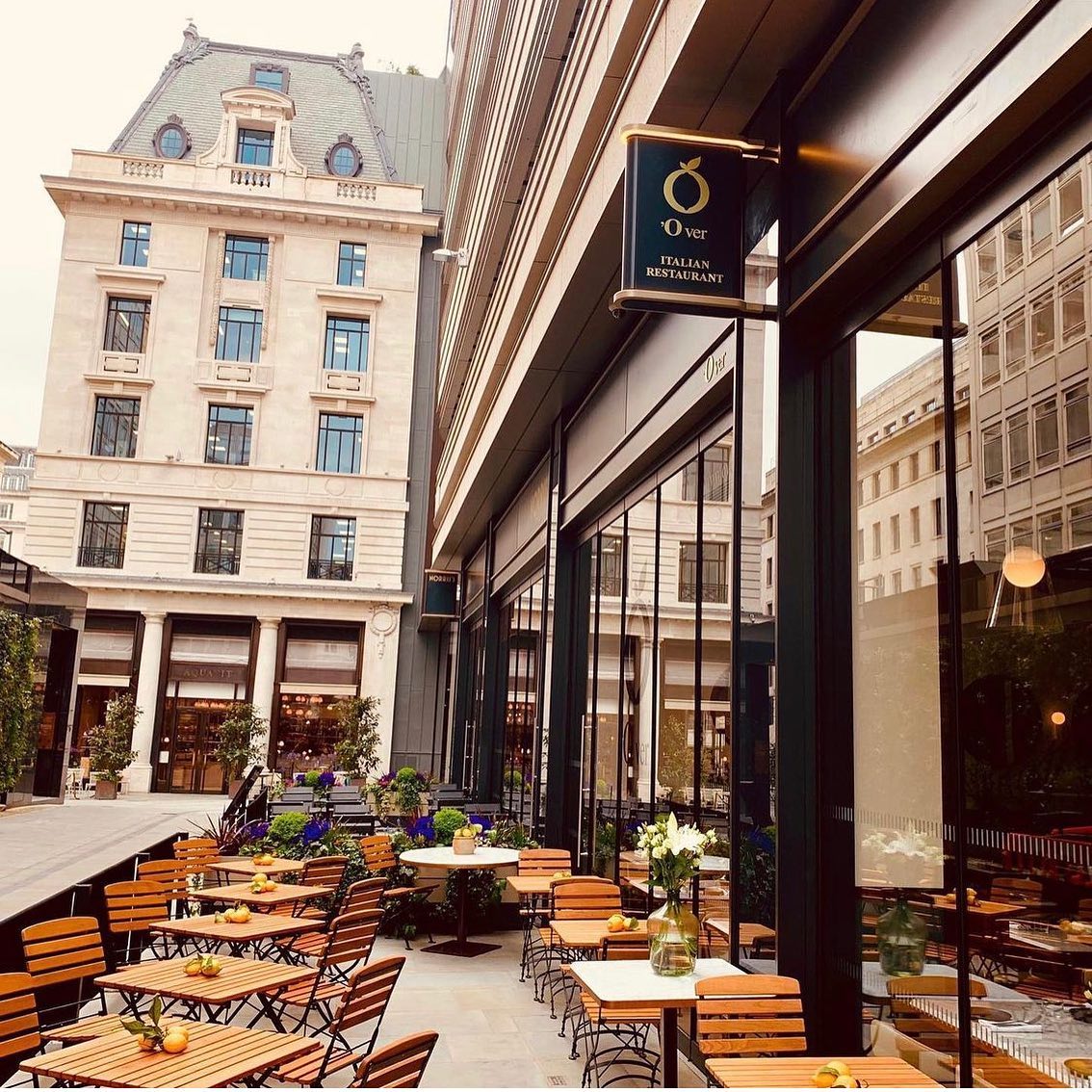 If you love authentic Italian food, you need to check this place out. Earlier this year, O'ver was voted as 22nd best pizza in Europe – need we say more? The outdoor terraces at the St James and Borough locations aren't full of frills or fancy decorations, but they're ideal if you want guaranteed delicious food, a lowkey but elegant atmosphere, and a nice spot to sit outside. When I visited the Borough branch, I had the truffle arancini to start, the puttanesca for main, tiramisu for dessert and a tequila-based cocktail that was so good I drank it like it was juice.
---
Repubblica
6 Jun 2023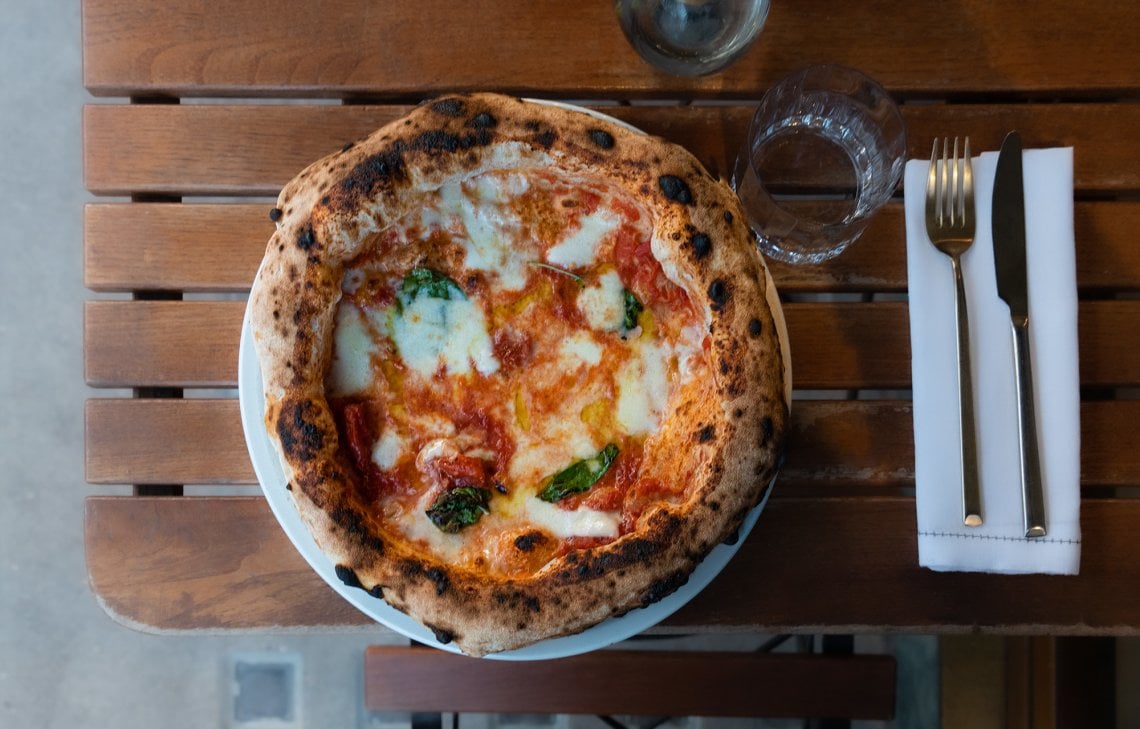 I ragazzi italiani che a Londra impastano la pizza con acqua di mare (che arriva dalla Puglia)
LONDRA - L'acqua di mare in cucina ha radici molto antiche. Veniva usata dai pescatori per cucinare molluschi e crostacei quando erano ancora al largo. In tempi recenti è entrata nelle preparazioni di chef del calibro di Ferran Adrià e Felice Lo Basso, solo per citarne alcuni. Fino ad oggi, però, nessuno mai l'aveva utilizzata in maniera massiccia, tanto da arrivare a impiegarne ben 12mila litri l'anno, gran parte dei quali per impastare, infornare e servire fino a 80mila pizze. Sono i numeri di 'O Ver, due piccoli ristoranti londinesi che hanno fatto dell'acqua di mare il loro punto di forza, tanto che il sottotitolo scelto della loro insegna è pure sea water.
Quella che giunge dalla Puglia, prelevata di fronte al tratto di costa tra Bisceglie e Molfetta, filtrata meccanicamente e non chimicamente, per non intaccare la sua naturale purezza ma solo per ripulirla da agenti esterni, imbottigliata in taniche da venti litri che giungono nella capitale inglese una volta al mese. Da qui, entrano nelle cucine dei due locali, il primo a poca distanza dal Borough Market e il secondo a pochi metri da Piccadilly Circus, tra le foodie destinations più gettonate di Londra. L'acqua di mare viene usata per gli impasti della pizza, dei pani e delle focacce, per le preparazioni a base di pesce e anche per i cocktail.
A creare questo ponte Puglia-Londra è stato Mauro Palomba, socio fondatore di 'O Ver, con un background nel mondo della Finanza ma con una grande passione per la cucina alimentata dalle sue origini campane, essendo nato e cresciuto a Torre del Greco. "Ho viaggiato molto per il mondo e in ogni luogo dove approdavo mi immergevo nei sapori locali - racconta Mauro - ma ho sempre avuto il desiderio di dar vita a qualcosa di mio...
---
Tasting Table
3 Jun 2023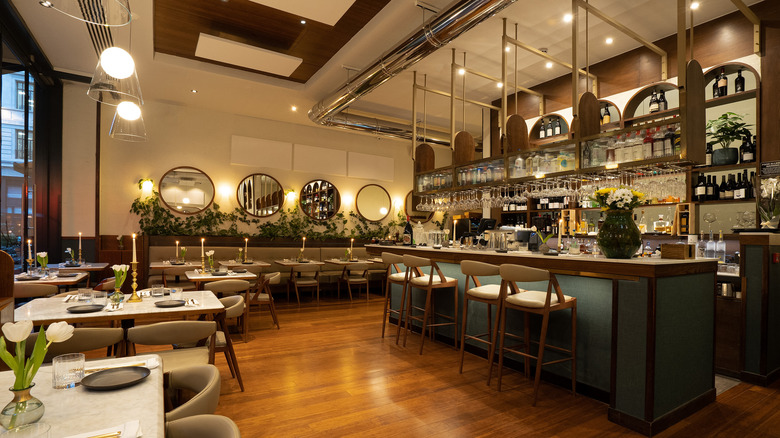 The London Eatery That Uses An Unexpected Salty Ingredient In Its Dishes
'O Ver
BY MICHELLE WELSCH/JUNE 3, 2023 4:30 PM EST
To explain the origins of using seawater in dishes, Italian-born Chef Mauro Palomba told Vice, "This way of cooking comes from the Italian fisherman ... They would just scoop up some seawater and use that in place of normal water. There's something so simple and natural about it."
Palomba believes so strongly in the practice of using seawater in recipes that all the pizzas, bread, and seafood dishes at his London restaurant 'O Ver carry a bit of the ingredient. But don't be mistaken, the resulting effect isn't quite the briny, salty cuisine you might expect. Palomba admits that the taste of seawater is nuanced and delicate, even for those well-versed in culinary arts.
At 'O Ver, appetizers and mains include seawater as an advertised ingredient: Seawater bread is served with an assortment of toppings like tomatoes and basil, mozzarella and lemon zest, and cheese mousse and thyme. The slices of salty goodness reappear alongside Polpetta Napoletana, a main dish of beef and pork meatballs slathered in tomato sauce. And possibly most famously, 'O Ver'spizza dough is made with water from the sea.
'O Ver's pizza has become known for its fluffy texture and has earned contented appreciation from skeptics of saltwater-infused meals. Even diners who do not know seawater is an added ingredient sing praises about these slices.
Using natural resources in the kitchen
'O Ver
The name "'O ver" is derived from Neapolitan meaning "truth," and the chefs at 'O ver seem committed to bringing this theme into the menus they create, one salt-water flavored dish at a time. Since food is naturally seasoned when seawater is used, chefs can reduce sprinkling additional salt into recipes and experiment with flavors while making soups and sauces. With less sodium packed into meals and more minerals enhancing dishes, foods become lighter and easier on diners' stomachs, 'O ver insists.
After trying 'O ver's pizza, Joanna Taylor gushed in ES Magazine about the taste of the light, crisp pizza that offered just the right amount of salty flavor. The writer loved it so much, in fact, she said she thought it might be the best pizza in London.
"[It's] a bold statement, but the impeccably light and crisp Neopolitan base has an intriguing twist: a subtle minerality about it," notes Taylor. "This adds a unique layer of salty flavor that's different from the ubiquitous sourdough, which we've grown used to reaching for when searching for a punch."
Taylor isn't the only one. One TripAdvisor reviewer admitted, "I have only tried Margherita as I could not stop re-ordering it again ever since my first try. I must have had over 20 Margheritas from this place in the past year." Whether feasting on pizza or enjoying bread made with seawater, visitors consistently voice their preferences for the dishes 'O ver is serving.
---
ES Magazine
6 May 2023
THE SECRET INGREDIENT TO LONDON'S BEST PIZZA? SEAWATER
Joanna Taylor stumbles upon a pizza joint with a unique, salty twist
Iam the type of person who says things like, 'I'll give anything a go,' but won't jump into a swimming pool. So when I first heard about a pair of Neopolitan-leaning restaurants serving pizza made with seawater, my reaction was mixed. Yes, I love a wacky idea, but let's be honest: ingesting seawater is never chic. One minute you're channelling Pammy-An, the next you're retching like you've seen Donald Trump in budgie smugglers. But sometimes I will give anything a go. Apparently the Mediterranean water they use at both 'O ver restaurants is hyper-filtered, so the chance of ingesting germs is slim. According to the eatery, which has been quietly using the saline liquid in its pizza dough for seven years, this quirk results in 'less sodium and more minerals', making 'food lighter and easy to digest'. True or false, this process is nothing new; Spanish and Italian fishermen have been cooking with seawater for centuries and Ferran Adrià of the late powerhouse El Bulli became known for it decades ago.
So, how does London's only seawater pizza taste? I'm pleased to report after devouring the Diavola — topped with fior di latte, sweet, rich San Marzano tomato sauce, spicy, glossy spianata calabra salami, 'nduja and basil — that I whatsapped to my editor: 'I think I've just found the best pizza in London.' A bold statement, but the impeccably light and crisp Neopolitan base has an intriguing twist: a subtle minerality about it. This adds a unique layer of salty flavour that's different from the ubiquitous sourdough, which we've grown used to reaching for when searching for a punch. So set sail for sea(water) — it might just be your best voyage yet.
BY JOANNA TAYLOR
---
50 Top Pizza
1 Jan 2023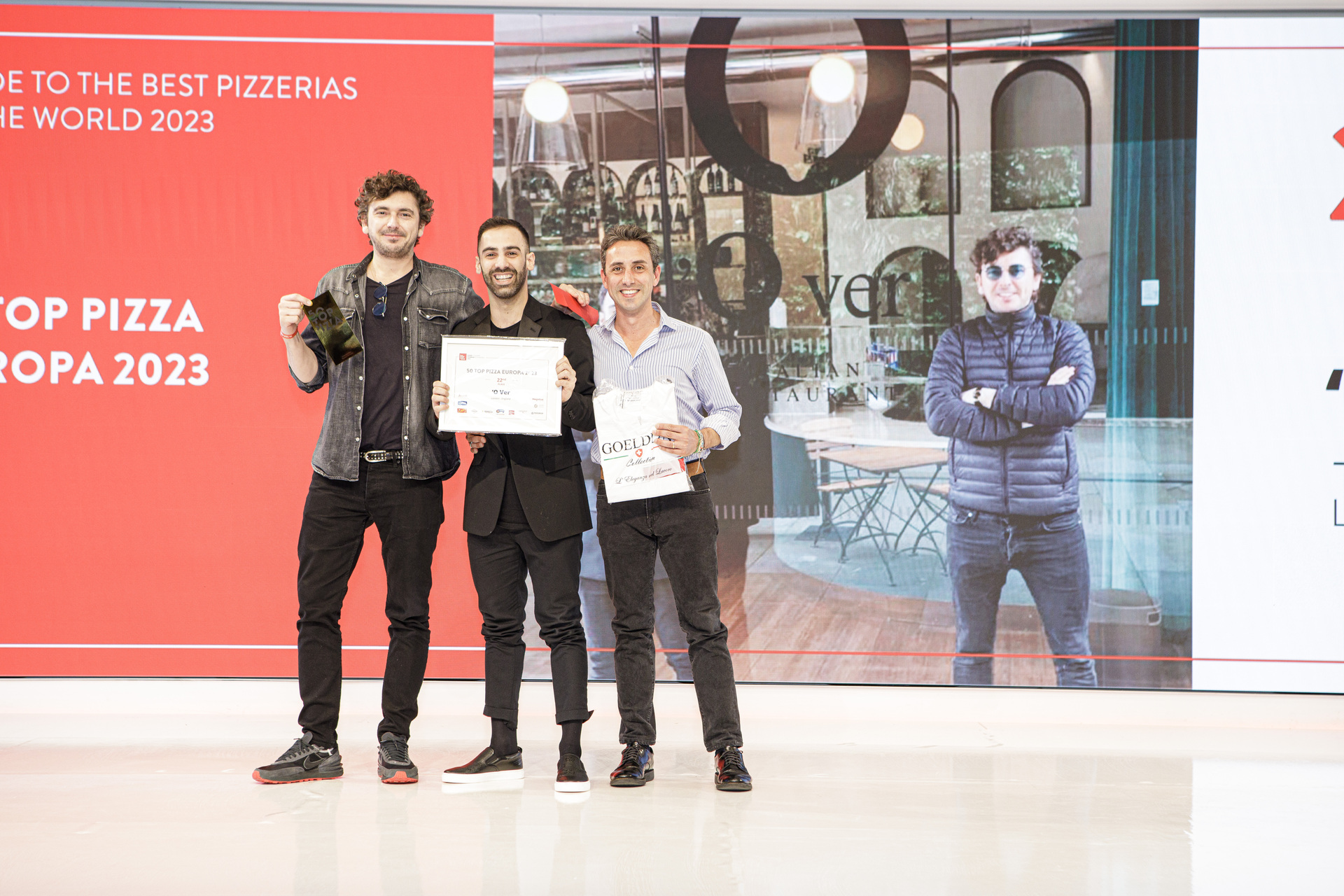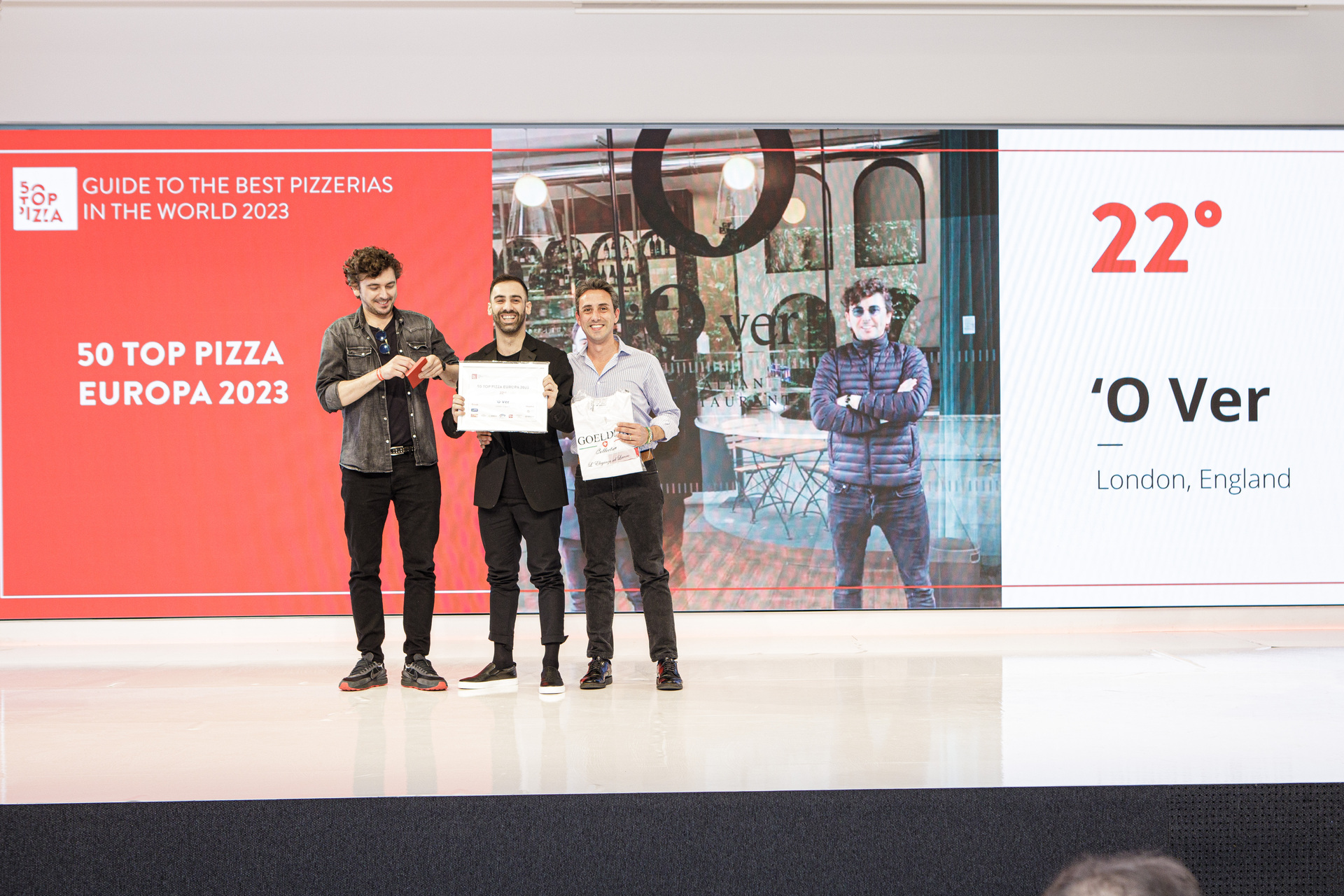 TOP 50 PIZZA - Europe 2023
---
Financial Times
10 Jan 2020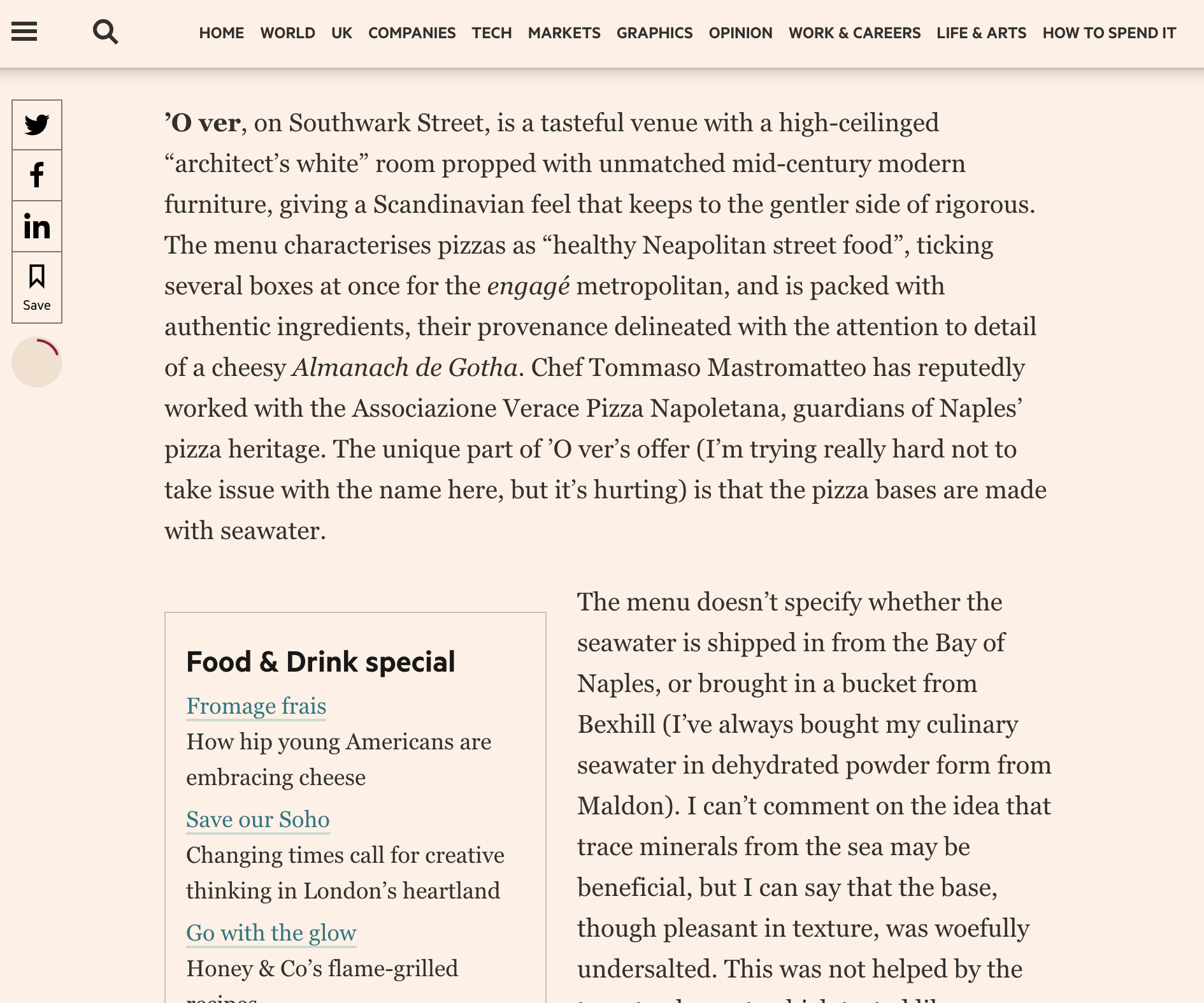 Stylist
1 May 2019

The London Economic
1 May 2019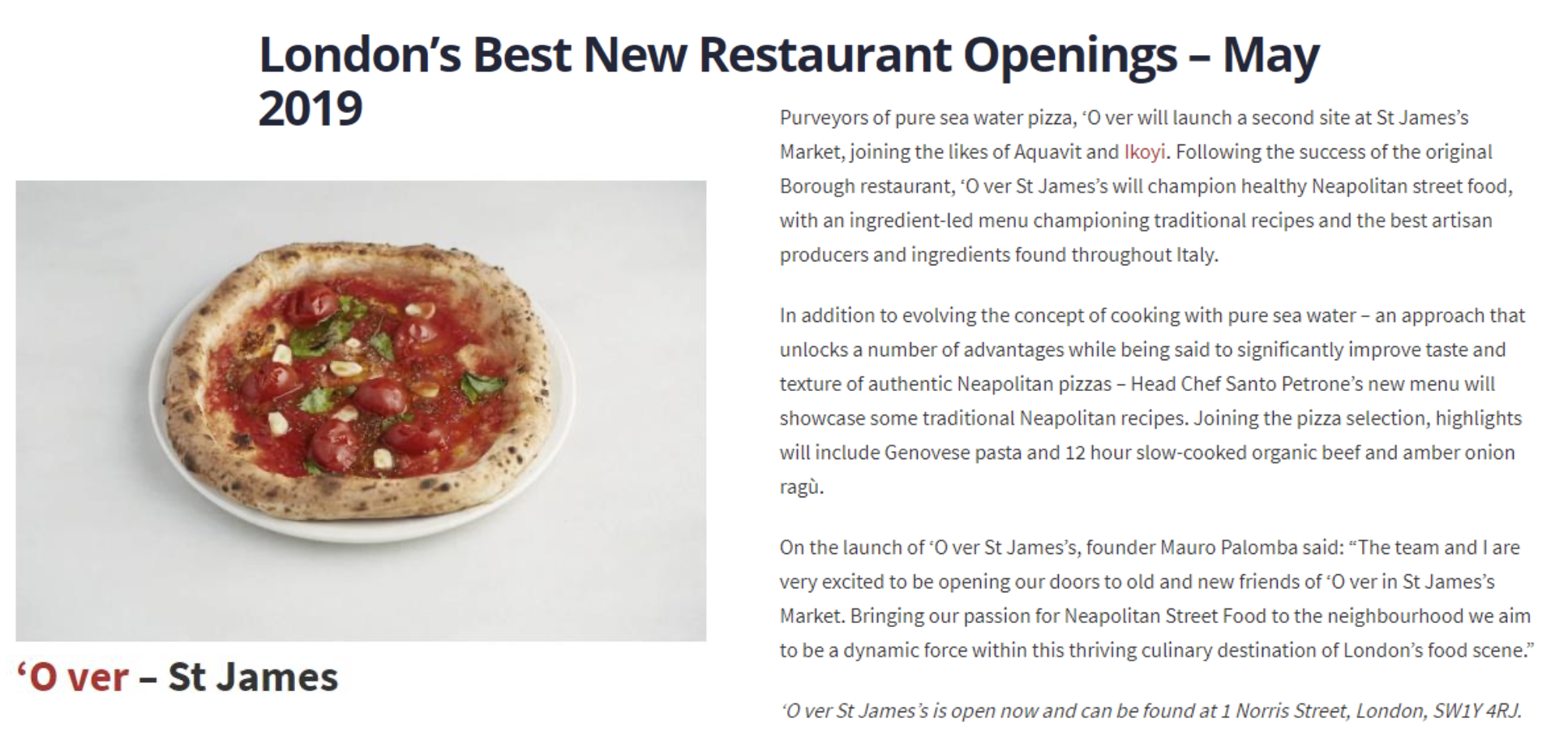 GQ.com
7 Oct 2016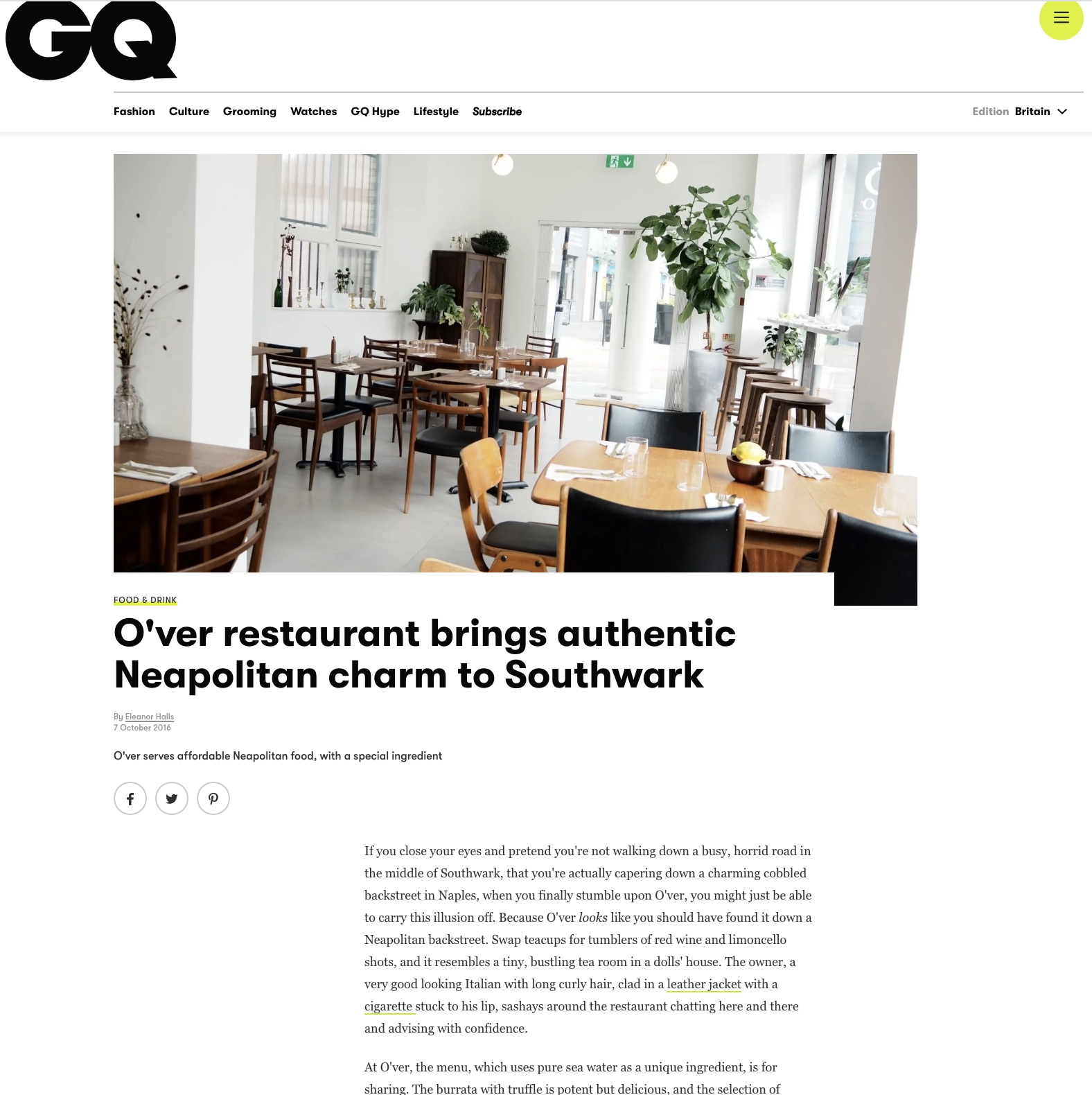 ---
The Guardian
7 Oct 2016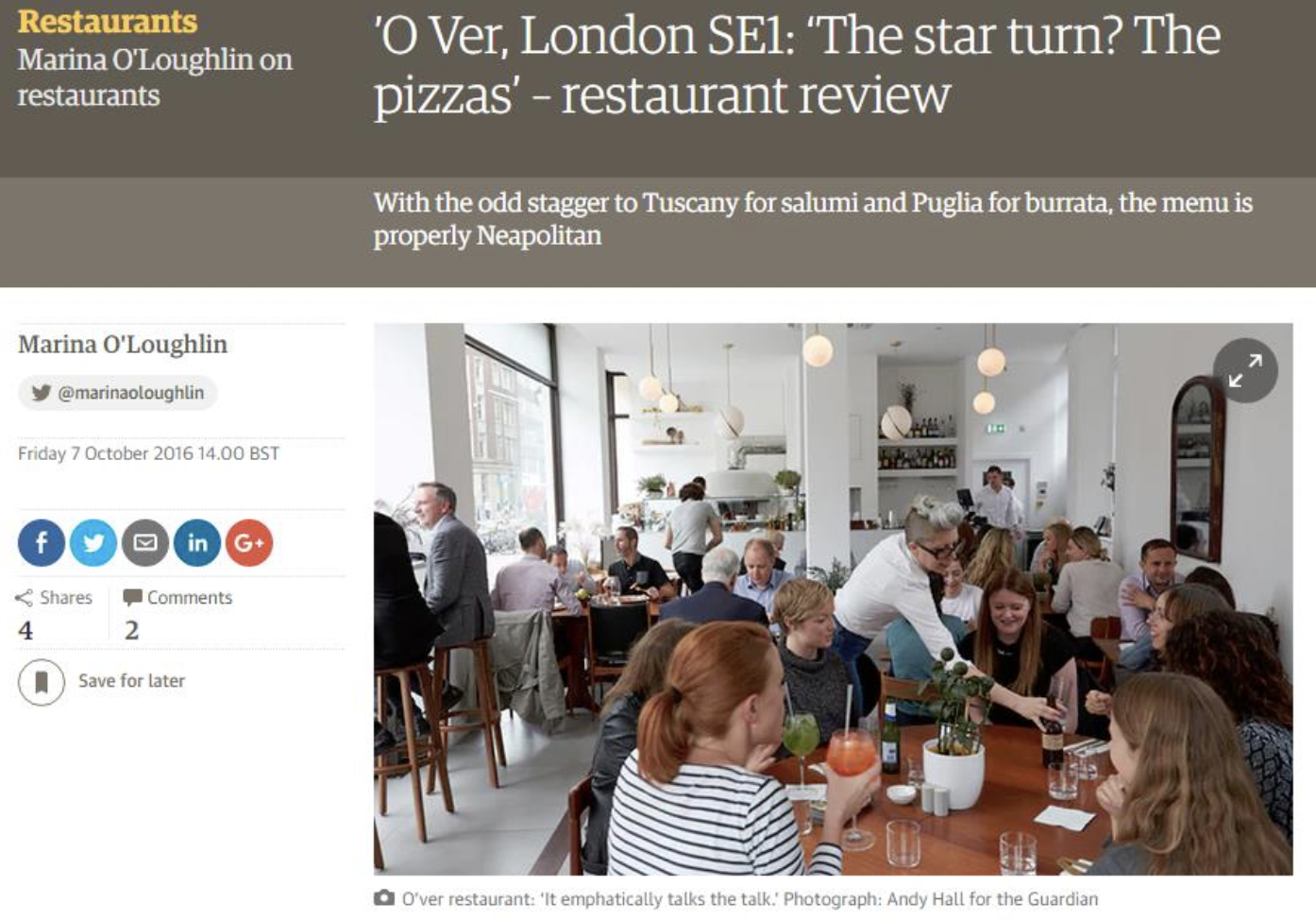 ---
The Metro
1 Oct 2016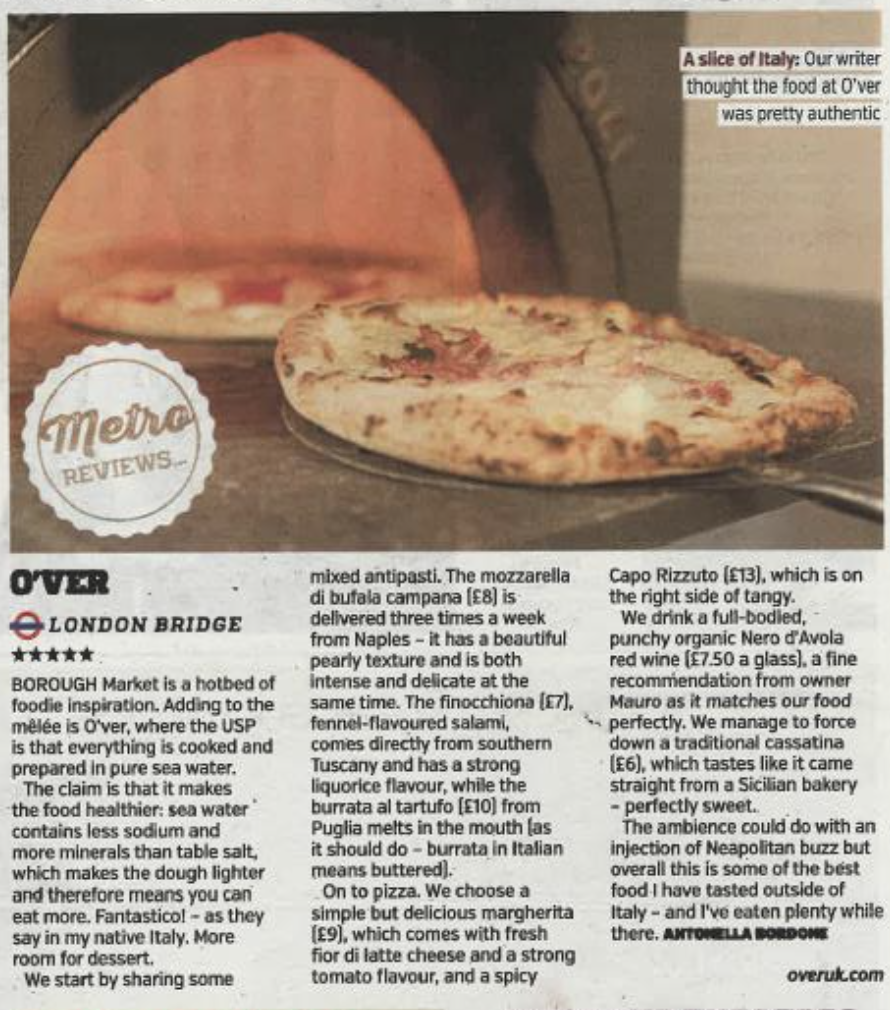 Sloan Magazine
18 Sep 2016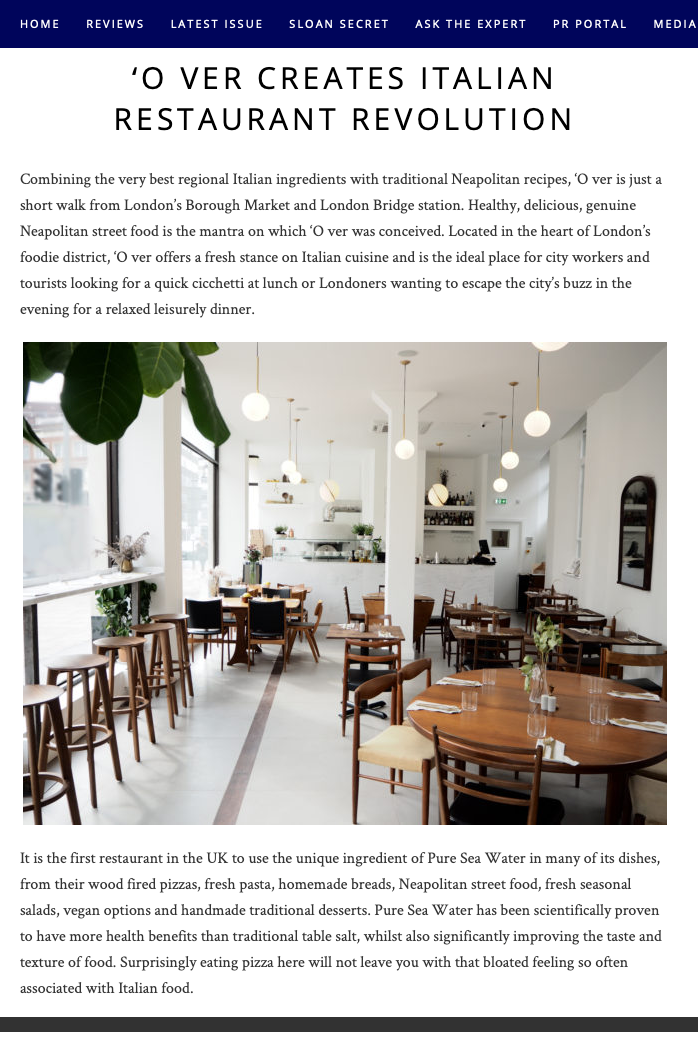 Harper's Bazaar
30 Aug 2016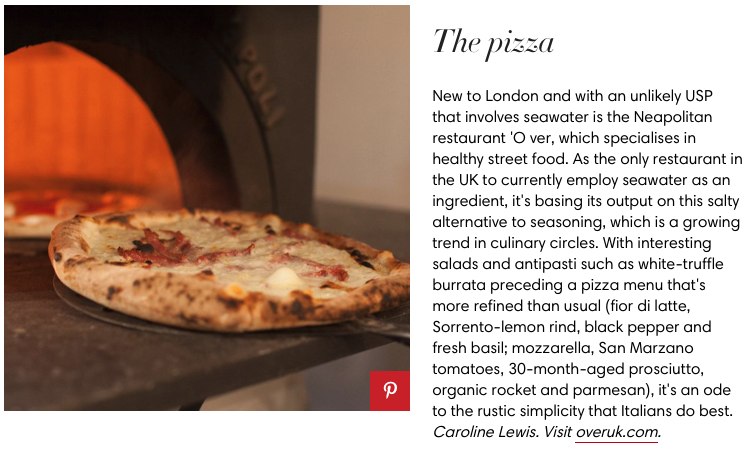 ---
BigHospitality
11 May 2016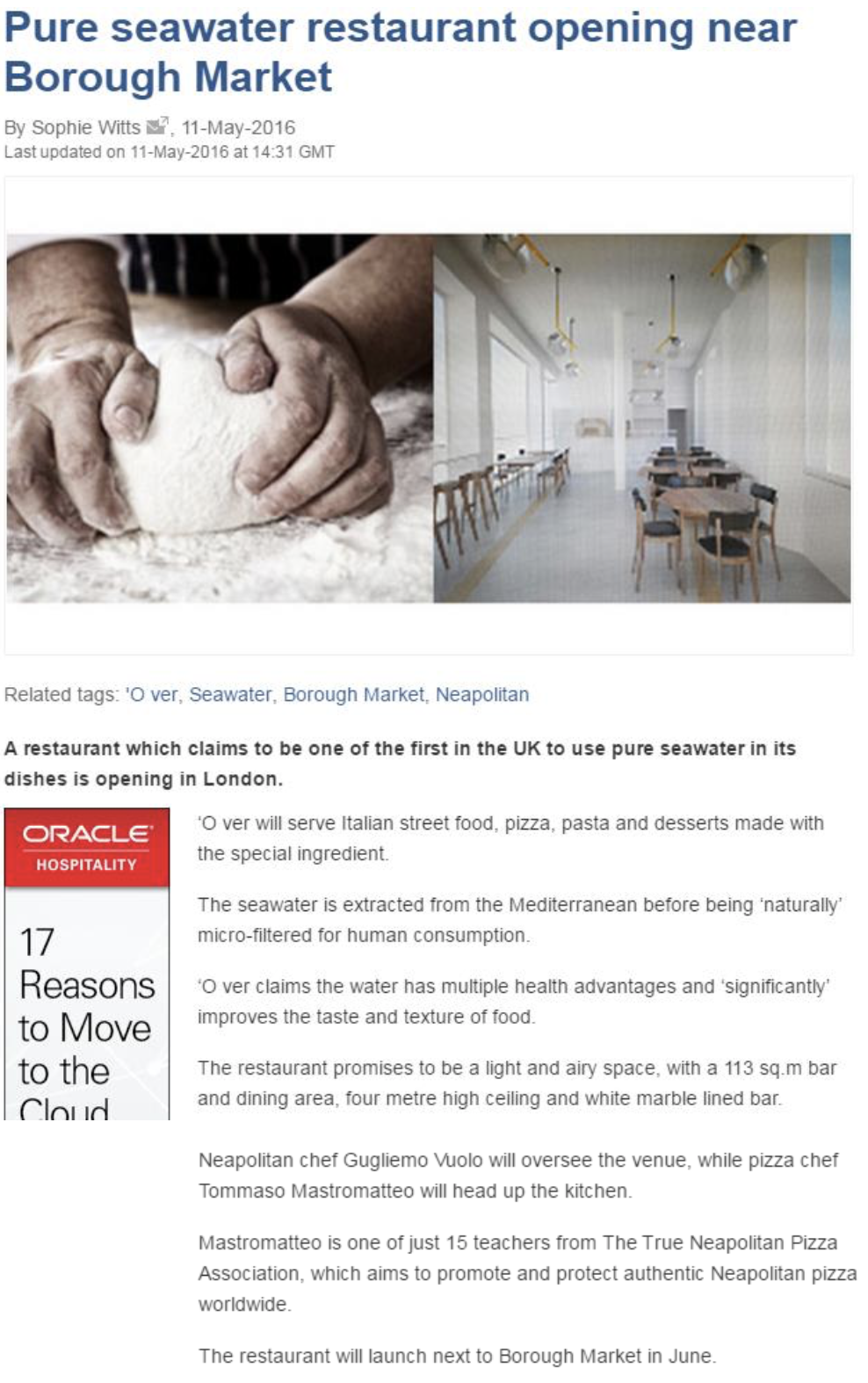 ---
Hot Dinners
11 May 2016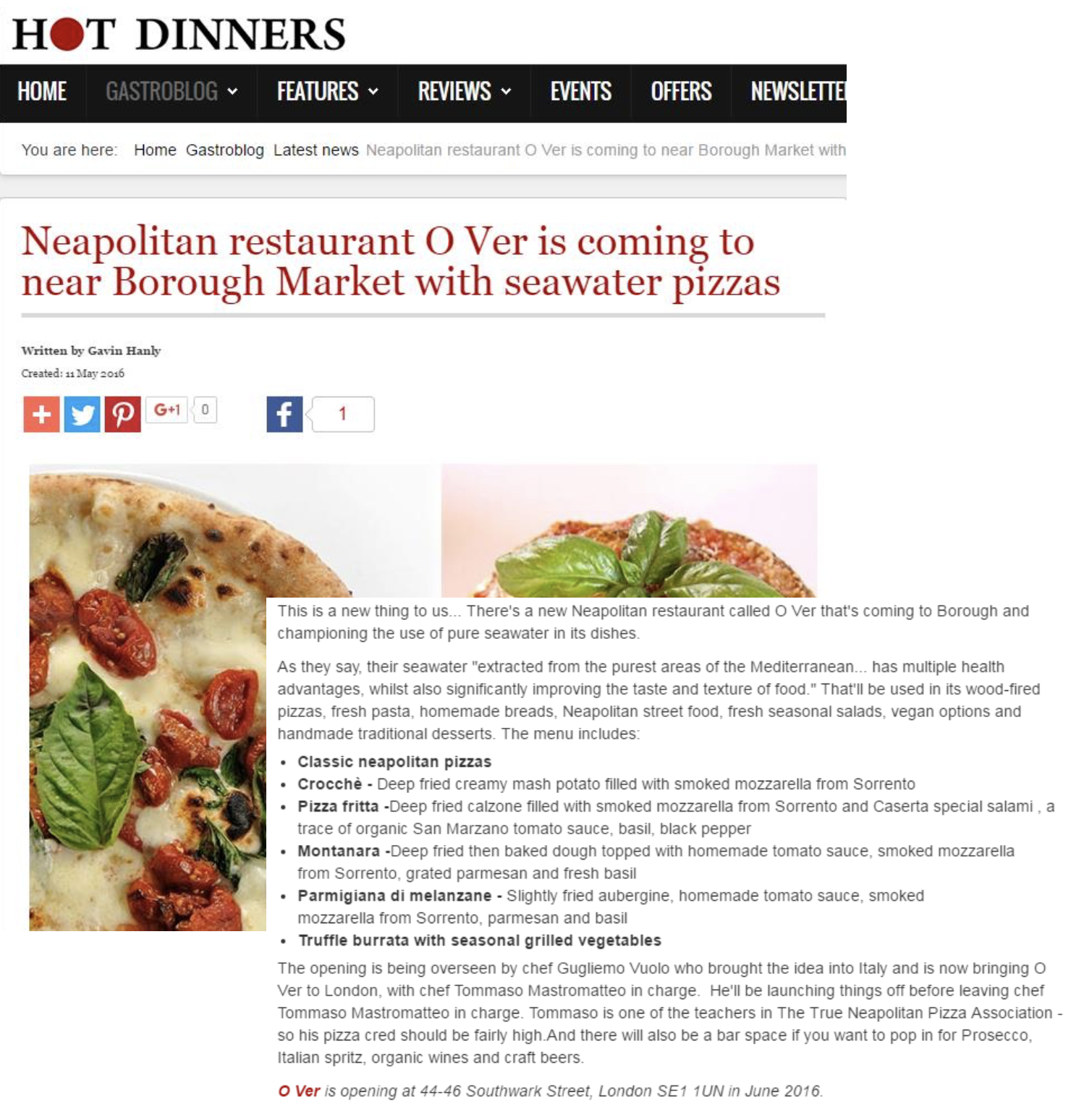 ---
Country and Town House
1 May 2016

London on the Inside
1 May 2016